SUN RISE HOTEL
Located on the North-West side of Lesvos is the village of Eftalou. Here you will find one of the island's premier hotels.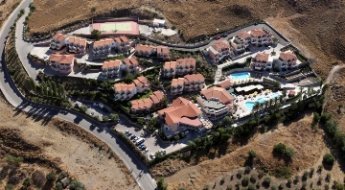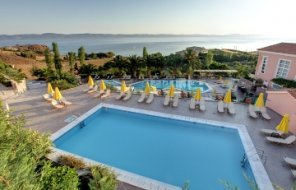 The Sunrise Hotel offers more than just a room!
The Sun Rise Hotel is located just one Kilometer away from the island's bustling resort of Molyvos (Mithymna). The bungalow style accommodation is built amphitheatrically on a hill with private terraces offering magnificent views of the Aegean Ocean, the coast of Turkey and overlooking the village of Eftalou where you will find wonderful THERMAL SPRINGS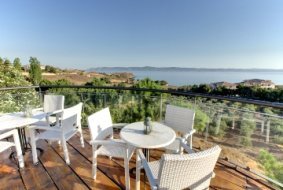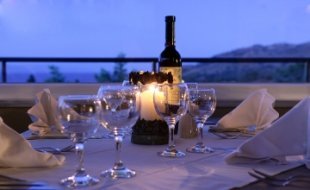 Enjoy the buffet breakfast in the terraced dining room
The main building houses reception which offers the guest a fax service, safe deposit, foreign exchange and car rental. The light and spacious restaurant offers a buffet breakfast service and extensive dinner menus including an a la carte option which can be enjoyed on the open terrace overlooking the sea. Here, you will also find the main bar and a spacious piano lounge and a separate television room. Room service is available on request.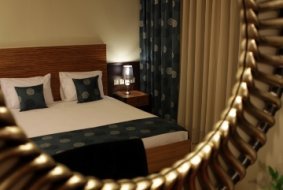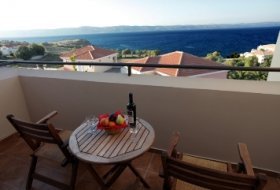 The spacious rooms are equipped with modern accessories including, air-conditioning, fridge, satellite television, radio, mini-bar and direct dial telephone. Each has a private bathroom with w.c and either a bath or shower.
Keep cool with a dip in the pool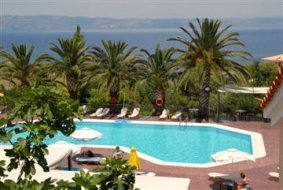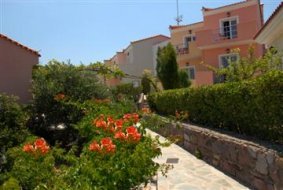 The Sun Rise has its own swimming pool with a pool-bar. There is also an outdoor Tavern serving Greek specialties, a tennis court, table-tennis and a play-ground for the children. There is also a first class restaurant and a main bar with views of the Aegean and Anatoli (Asia Minor).
The hotel operates it's own free mini bus shuttle service giving guests frequent opportunities to pop into the town of Molyvos.
Details