HELIOTOPOS STUDIOS & APARTMENTS
The Heliotopos provides a serine, garden setting for your vacation in Skala Eressos. From the moment you enter the garden gates you will be amazed at the lush environment in which you will find yourself. Colorful flowers flourish, lush green lawns provide spaciousness. Palm trees, pine trees and Mimosa accent the structures and grounds providing shade for the buildings as well as creating islands of comfort on the lawns. Yet there is still sufficient space for kicking a football or tossing a Frisbee. Stroll the grounds picking organic fruits directly from the trees in every season and you will understand the comment of many guest - that they feel that they have landed in a Garden of Eden.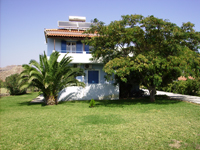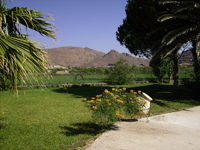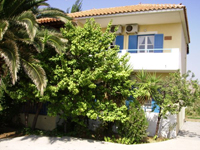 The guest rooms are to be found in two separate buildings on the grounds, each of which contain four units on two floors. All units are entered on the North side and have private balconies on the South. The first building (the blue one) has three Studios on the lower floor and a large Apartment on the upper. There is also a large common patio on the upper level with a panoramic view of the entire Eressos valley. This patio is frequently used for parties, yoga, tai chi, massage or simply relaxing. The second building (the yellow one) has one studio and one apartment on each of the two levels. Behind the back building is a large organic garden with seasonal vegetable for guests to enjoy.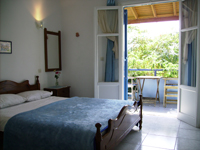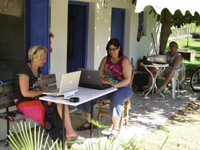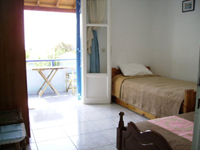 The Heliotopos is a short fifteen-minute walk to the village of Skala Eressos with its numerous taverna, shops and beaches.
Details