THE WINDMILL
'Unique, private and extremely romantic!'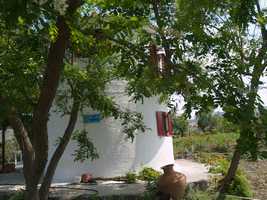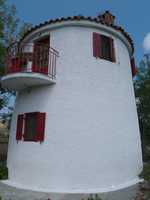 The Windmill is over 100 years old and has been converted into one of the most idyllic and romantic places to hide away and relax from the outside world.
The Windmill is a completely unique property on the Island of Lesvos and sleeps up to two persons.  
It's located 1km from the center of Skala Eressos with its beach, shops & restaurants and 3km from the mountain village of Eressos. This two story traditional building definitely offers its visitors something a little out of the ordinary.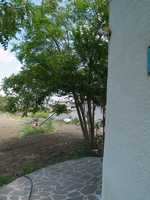 The Windmill is set in it's own private grounds and offers truly wonderfull views of the surrounding fields and the mountainous countryside.
A private gate leads to the grounds of the property and although it's located one kilometer away from the holidays crowds, this property is easily accessible by car and you will find enough space for parking. Also, should you wish to go for a nice stroll rather than take a car, this property is only a 20 minute walk away from the village of Skala Eressos on a flat tarmac road.
The ground floor entrance leads into a cozy lounge room with a sofa and chairs. Here you will also find the kitchen facilities such as small cooker and refrigerator. A door leads to a small private bathroom with sink, toilet and shower.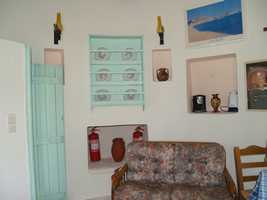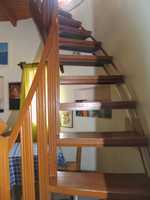 A wooden spiral staircase leads to the first floor bedroom. Here you will find a double bed with bedside cabinets, and a wardrobe.
From here, French windows open onto a small ivy covered balcony offering views of the surrounding countryside and stunning volcanic mountains.
The wooden floor and feature circular wooden ceiling give this bedroom a finishing touch you will not easily forget ... you will find yourself standing inside a true Windmill! This property is extremely private and extremely romantic.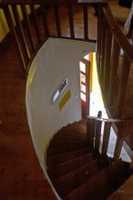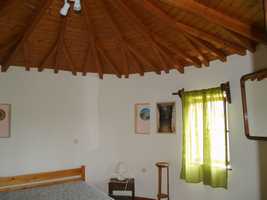 The private grounds around the Windmill are covered with a carpet of poppies and sunflowers and there is a stone terrace with barbeque and bamboo covering which offers shaded retreat to laze away the day. The interior has recently been refurbished by us. 
Car hire can also be recommended.
photos by: Anjo Kan & Ioanna Savva
Details