MEDSUN HOTEL PELA
The Pela Hotel in Skala Kalloni with their wonderful swimming pool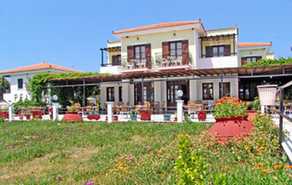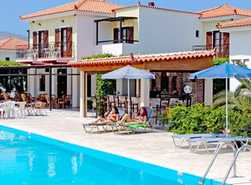 Kalloni is situated at a blessed area, at the biggest plain of the island of Lesvos with the Gulf's water generously giving life to people and every being. There at this blessed area, we find the luxurious hotel PELA and It has been built just 150 meters away form the tourism resort of Skala Kallonis.
It has been constructed and organized accordingly to the high standards of service, offering to our guests all the comforts and every kind of activity, promising carefree days of relax.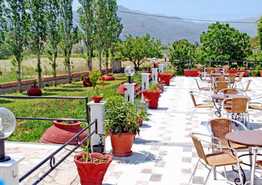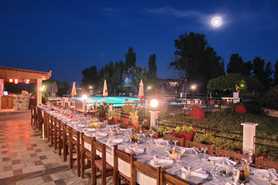 PELA hotel has 30 luxurious rooms. All of them have been decorated with artistry and equipped with all the comforts, aiming at satisfying all of your needs.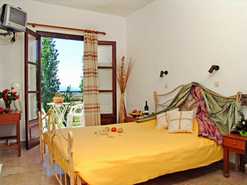 The rooms furnished and decorated to the highest standard, combining modern and traditional styles and are equipped with direct-dial telephone,  music, fridge and safe (by separate request), full bathroom (bath or shower), and balcony or terrace.
The hotel is close to the sandy beach of Skala Kalloni with splendid views overlooking the immense Gulf of Kalloni. There you will find organised water sports, beach activities and local bars and restaurants.

The facilities include a large outdoor swimming pool with children's pool and is suitable for adult and child bathing surrounded by landscaped gardens and a poolside bar for guests.
The hotel lounge is comfortable and offers the benefit of satellite television and a restaurant offering traditional and European dishes.
Details