LESVION HOTEL
The Lesvion Hotel is situated right at the centre of the town of Mytilini and is on the harbour.
Hotel "Lesvion" is being operated since 1956 and it has been renovated three times, in order to offer whatever the customer calls for.
This hotel is open all year, and located only 7km from the airport,0.5 km from the port and 0.7 km from the well organized beach of the Greek Tourism Organization.
The Ferry embarkation and debarkation points are just a short distance away making the hotel an ideal option for visitors wishing to explore the town during short breaks or stopovers to other island destinations.
The hotel benefits from a friendly and professional reception area, a hotel bar and breakfast / snack bar which opens at 06.30hrs for the early morning traveler and offers wonderful views of the port of Mytilini.
All rooms are sound-proofed and have telephone, central heating, air-conditioning and heating and television.
The hotel also benefits from double beds which as some of you already know are hard to find on the island!
Room service is available as is a laundry sand fax service to all guests.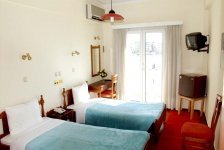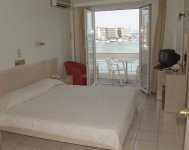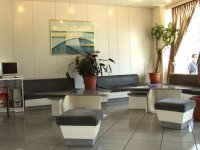 The hospital is located 3 km from the hotel and the university is 5 km away.
A communication center is available with a fully automated system, fax and access on the internet via an ADSL line. Also sound proofing, free insurance, safe - deposit boxes,exidition room, updated fire safety, generator, laundry and service serving to your room are always available.

A hospitable and experienced perosonnel is always close to you for the best service you could be received.
A snack -bar is being operated to the mezzanine from 06:30 till late at night. It's the place where the breakfast is being served and also the place where you can enjoy your drink, watching the marvelous view of Mytilene's port.
For relaxation or for a business trip, your residence in our hotel, will be an unforgettable experience.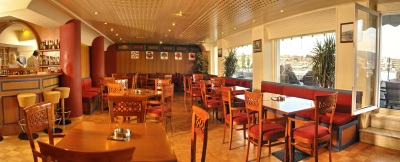 All 34 rooms of the hotel that are available, are found. Each one offers hot water 24 hours per day, central heating, air - condition and television with satellite reception. Also a mini - bar, music and telephone makes your residence a comfortable and pleasant experience.

Twelve (12) of the 34 rooms have a great view to the scenery port of the town and eleven (11) of them have view to the market and to the glorious church of St. Therapontas. All the others are inside.

Details