KYPARISIS BEACH HOUSES
Few places in Greece, the Aegean, or even Lesvos, have this kind of view, the tiny picturesque fishing harbour to the left, and then across the straits of Toukmakia to the purple hills of Asia Minor.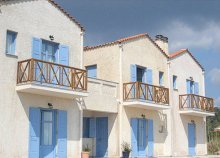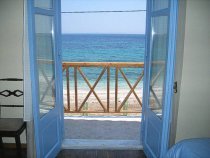 Just open the door and walk straight out on to the beach at magical Skala Mystegna. And what a beach it is - the beautiful white pebbles, truly crystal blue waters of the Aegean, without the crowds. The Kyparissis Beach houses (two to choose from) offer a special kind of seclusion - it's as if the beach is your own.
These stylish new two storey villa-apartments have a touch of luxury and have been decorated with care. The properties are accessed directly from the unspoilt pebble beach. Their main entrances lead into a spacious open plan living/dinning area, tastefully decorated in a simplistic Hellenic style with a smooth cool stone floor. Double balcony doors open onto a terrace, giving direct access onto the beach.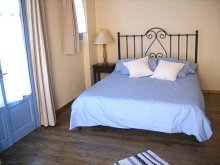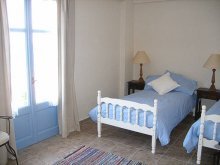 The fireplaces take care of any early/late/out of season chills and air conditioning cools the summer heat. Television/ music system are provided. Adjoining is the kitchen where all 21st Century kitchen conveniences (oven, microwave, etc.) are carefully placed so as not to detract from the overall traditional simplicity of the design. They have everything you require for self-catering and more, and that wonderful view of the Aegean just beyond the window sill.
Each house has two stylish designed bedrooms with en suite bathrooms and their own air conditioning units. One bedroom has a spacious double bed and the other has twin beds that can be pushed together if needed. All bedrooms have their own balcony doors from which one can view that fabulous fabulous view.
Bed linen, bath towels and beach towels are all provided.
Details
Type
Apartment, GUESTHOUSE