CAPTAIN'S VIEW
Situated in the heart of the village of Molyvos (also known as Mythimna) is Captain's View, a beautifully restored stone house retaining Molyvos tradition and with an eye for both Greek style and luxurious detail.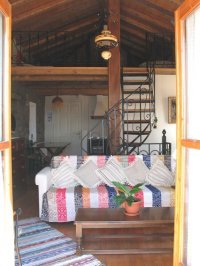 It is a couple of minutes from the 'agora' (market), the bakery and a well stocked grocery. Imagine newly baked bread, croissants or baguettes, fresh fruit, yoghurt and local honey for breakfast on the balcony.
The views from the balcony, sitting room and main bedroom make words like 'spectacular', 'awesome', 'magnificent' and 'magic' seem totally inadequate. It's one's private access to a panorama of natural beauty, a wide bay, the harbour with its yachts, small craft and colourful fishing vessels, distant islands and mountains, and just below, the tiles of the old village roofs. Next door to the house is one of the most treasured 'Turkish' style houses in Molyvos.
The house is sheltered with cool corners and a private balcony to work on that sun tan, or just watch the sun set. There's full air conditioning, so if the weather gets too hot you can escape to indoor comfort.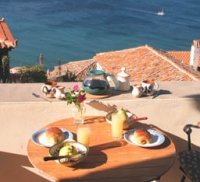 Captain's View is a relaxing house with plenty of space. It is ideal for a family with three or four children or two couples sharing. It has two double bedrooms downstairs, each with an en-suite bathroom - one has a big spa bath, the other a shower. Built-in cupboards provide plenty of drawers and hanging space for clothes. The settee in the living room upstairs can be folded out to provide additional sleeping accommodation, and above the kitchen and dining area is an attic den for siestas, reading and TV watching. The sitting area in this den can also convert to provide still more sleeping accommodation.
The spacious and well-equipped kitchen has a full sized cooker, a microwave oven, a spacious fridge/freezer and a dishwasher. There's plenty of crockery, cutlery and all the kitchen utensils required for self-catering. Bed linen, bath towels and beach towels are all provided. A small utility room houses an automatic washing machine. In the living area adjacent to the kitchen there's an eight place traditional wooden dining table.
A telephone is provided with which you can make free local calls. For long distance calls, you will need a phone card. You can also use the phone line to connect your computer for narrowband Internet access (provided your computer has a modem, of course); a card can be purchased from the tobacconist providing 20 hours of Internet connection time, more than enough for staying in touch with friends and family and for sending those e-postcards!
Tour of the Captain's View:
| | |
| --- | --- |
| | The spacious living room is at the street level and includes a sitting area and dining area. The settee seen here folds open to provide additional sleeping accommodation. A French window leads straight onto the balcony, which cannot be overlooked, and is ideal for tanning... or for an outdoor breakfast of fresh croissants from the nearby bakery! The spiral staircase leads up to the den and down to the bedrooms. |
| This cosy upstairs den includes a TV and a library of books; it is an ideal place for older children to play, or for quiet reading. There is also a couch which converts into additional sleeping accommodation. | |
| | This view of the living room shows the dining table, which seats up to eight comfortably. |
| The well equipped kitchen area adjacent to the living room dining area has rather more facilities than the average holiday maker will probably use. As well as the standard items (cooker, fridge, etc.) this kitchen includes a dishwasher and, in the adjacent utilities room, an automatic washing machine, particularly useful for folk on an extended stay... the first two sets of occupants both extended their time in Molivos, so impressed were they with Captain's View! | |
| | This spacious bedroom, complete with en-suite bathroom with shower and toilet and on the lower floor below the sitting area of the living room, has a splendid view of the bay. |
| As well as the en-suite bathroom (complete with shower and toilet), bedroom 1 also has plenty of storage space for clothes - you can just see part of the large wardrobe with drawer space beneath. | |
| | The second bedroom, while not having the benefit of the bay view, has the advantage of having a spa bathtub in its en-suite bathroom! |
| You see here the spa bathtub in the en-suite bathroom attached to the second bedroom. A basin and toilet are also present, of course. | |
Details