ANAXOS HILL

On the north of the island near the famous town of Molyvos is located Anaxos, a small and peaceful picturesque village enclosed within a big sandy embrace. 'Anaxos Hill Village' is built on a hill at the right side of the beach. The apartments and bungalows are situated in an area of 150sq acres, on a hill with spectacular view of Anaxos, Petra and Molyvos. Its location, just 150m from the 850m long beach of Anaxos is truly wonderful, as its setting on the small hill, overlooks the crystal clear Aegean sea.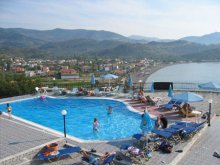 ADDITIONAL INFORMATION
* Very good parking facilities.
* Baby coats available after request.
* 200m away, there is a choice of taverns and cafeterias, as well as a couple of supermarkets.
* Volleyball and football can be enjoyed also on the complex.
* Ground lighting for the evenings and good parking facilities.
* Large playground area for children.
* Animals of any kind are accepted
* There is a small private beach area, below the complex, that overlooks village Petra.
* Reception and deposit boxes available.
* All-day free use of the swimming pool, umbrellas and sun beds.
* Snack bar at the top of the hill near to the pool with breakfast, drinks, ice-creams and food.
* Satellite TV available in "Anaxos Hill Bar".
* All have also their own spectacula view from their own private pergola shaded terrace.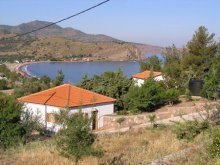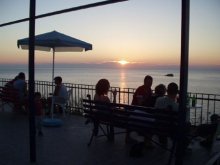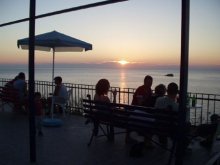 On top of the hill, the spot with the best view on the island, you can have a drink or enjoy a cocktail looking at the sunset in evenings. Also you can have your breakfast or just a cofee in mornings or taste, all day and night long, fresh ice creams, many kinds of tasty snacks and salads and cool refreshments and juices.
Of course you can take a dive in the pool and rest on sun beds under the shade of big umbrellas. You can hear interesting music choices from the last dance hits to chill out and old unforgettable songs.
There are nights where barbeques and dances been organized and many people from different countries eat traditional Greek food, drink, dance Greek and international songs.
Details