ARGO HOTEL - PLATIS YIALOS
The traditional Hotel Argo will provide you comfort staying in a family environment with friendly atmosphere. It is located 100m from the beach of Platis Yalos, on the south side of Mykonos Island, 4 km from Chora (Mykonos Town).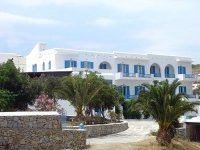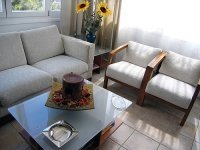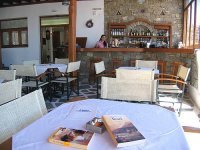 Platis Yalos is famous for its well-organized beach where you can find a lot of restaurants, mini markets and water sports. From the beach you can take small boats (like taxi boats) and visit the most famous beaches of Mykonos: Paraga, Paradise, Super Paradise, Agradi, and Elia. Also you can go on foot to other beaches like Psarou (that has a diving center), Paraga and Paradise.
The privileged position that Argo is located makes it the ideal place to stay. Just 10 minutes from the center of Mykonos with the frequent bus schedule (there's a bus stop 50m from the hotel), while provides you all comforts and gives you peace and calm when you need it.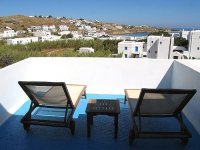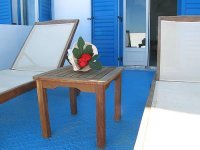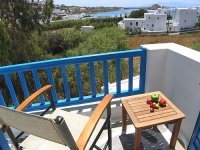 The hotel is built according to the traditional architecture of Cyclades. The white building with the blue windows is a representative sample of insular construction. The Cycladic atmosphere and the brininess atmosphere will give you beautiful memories from your vacation in Mykonos and especially from your staying in area Platis Yalos, in hotel Argo.
Your accommodation in hotel Argo will be unforgettable. We provide you all sort of comforts in a friendly and elegant environment. Our perfect room service will give you the best of impressions from your staying in Argo.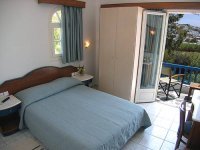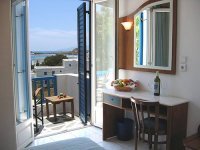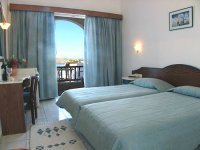 All rooms are spacious and with warm colourings. The furniture marries classic with modern style. Every room has a TV, telephone, music, air conditioning, fridge, safe box, bathroom and balcony. This picture will stay in your mind. The beautiful beach with the blue waters and the cool wind that brings every night the aura of Aegean Sea in your balcony. Moments of total relax and pleasure that only hotel Argo can provide you.
Argo was renovated in 2002 keeping its Cycladic features. Not only the exterior of the building but the interior as well distinguish for their Aegean identity. The hotel has a total of 18 rooms, a terrace for breakfast, a snack bar and a mini bus that will help you during your arrival and departure.
Description and photographs copyright © Sappho Travel 1999-2012